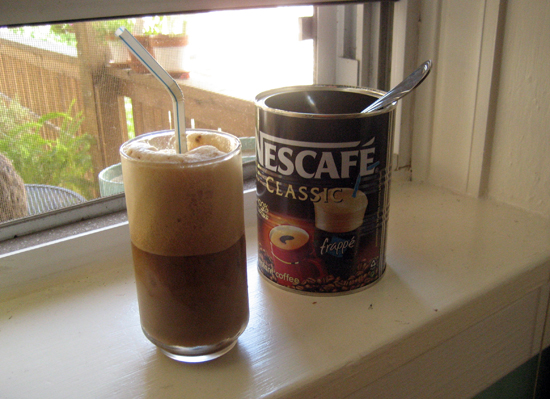 The most commonly preferred coffee in Greece is neither Turkish coffee (as they also call it Greek Coffee) nor other hot coffee. Especially in summer time the leader is 'frappé'.
The story goes back to 1957 Selaniki Trade Fair. Nestle's Greece office leader Yannis Dritsas was trying to introduce a new product for kids and hired Dimitris Vakondios. While the fair area is very hot and Dimitris cannot leave his place due to the work; he could not drink his daily morning coffee. So, he makes his first try and named as 'frappé'. After the people's interest the drink got famous and became the most preferred summer coffee of Greek people.
Next time I visit I would like to buy a 'frappé machine.
UPDATE 2009:
You can buy a simple hand-machine for Frappé from any supermarket in Greece for € 10 !…